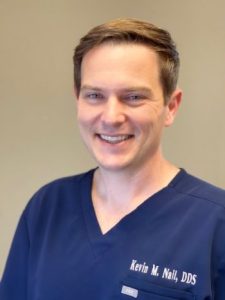 Dr. Kevin Nail, a native of Tomball, attended and graduated from Tomball schools. Dr. Nail went on to graduate magna cum laude from Texas A&M University. While at Texas A&M, Dr. Nail served as an enlisted member of the United States Coast Guard.
Dr. Nail graduated from dental school at the University of Texas Health Science Center in Houston under the U.S. Air Force Health Professions Scholarship Program.
Following dental school, Dr. Nail served as an Air Force dentist at Robins Air Force Base, Georgia. While in the Air Force, Dr. Nail received advanced training in cosmetic dentistry, endodontics, periodontics and oral surgery. During this time, he was promoted to 78th Dental Squadron deputy commander and was selected as 2013 United States Air Force Materiel Command Clinical Dentist of the Year. He was also ranked top 10 of more than 1,000 Air Force dentists.
Dr. Nail earned a prestigious fellowship in the Academy of General Dentistry, an accolade achieved by only 5% of general dentists in the country. He is also a diplomate in the International Dental Implant Association.
Dr. Nail and his wife, Gina, are college sweethearts and have three boys. Dr. Nail is passionate about helping people feel confident with their smiles. He enjoys the satisfaction that cosmetic and restorative dentistry bring to his patients.